WCW | Nk'iru writes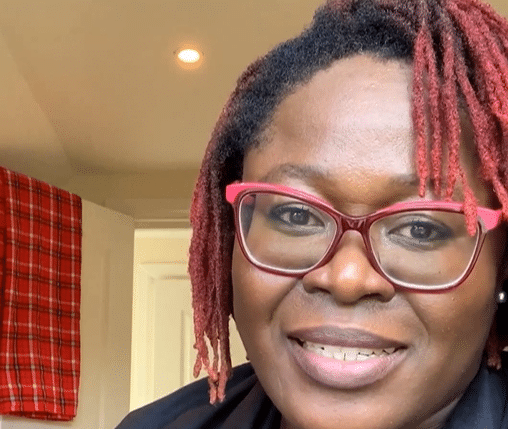 How has it been writing the storyline for MTV Shuga Alone Together?
As a television writer, I am used to the 'conveyor-belt' pressure of churning out scripts within tight deadlines. The adrenaline rush that comes from hitting the 'send' button on your Gmail two seconds before the cut-off time, is better experienced than imagined. The hairs on your neck stand on edge, a bolt of electricity shoots down your spine, and in that moment, you are the master of the universe. Then you flop into your bed and pay your sleep debt like the mere mortal you really are. Rinse, repeat. This is the life!
Then a pandemic shows up and you literally hear the TV industry grind to a halt.
………………………………………………………………………………………………………………………………………………………………………
In the middle of all the COVID-related anxiety, I got the call from the producers of MTV Shuga asking if I'd be interested in joining them to tell the story they had in mind. I was thrilled. I would write and direct episodes. Each one would be self-shot by the actors with their phones and laptops, while I directed them via video conferencing. It quickly became evident that this was not going to be 'beans' as we say in Naija, but I told the producers that it was a challenge I was happy to jump on. And it has been an exciting and exhilarating ride since then.
What is the creative process that you follow?
The creative process for MTV Shuga Alone Together starts with my fellow head writer and I developing the characters and their stories and having them critiqued by the producers who send us feedback for what should be strengthened, diminished, or eliminated. The next step is bringing these stories into alignment so that characters are properly engaging with one another, their worlds, and their individual experiences. We look out for continuity as well, making sure that history affects the present and the present opens up room for the future, otherwise, the story will hit a dead-end and we don't want that. Essentially, we create plots that can be unraveled. The writing team then bashes out the scripts at breakneck speed, we do some more feedback sessions with the producers until scripts are good to go, and finally, we move on to directing blocks of ten episodes per director.
What have you had to do differently writing for a series that is self-shot on video?
For a series self-shot on a video call, the way it works is that as a director I guide the actors as they take their lines whilst being recorded. I read the lines of the other characters to them so they can pick up and use the right energy for the scene. Whilst doing this I have to trust that the producer on duty has their eyes on the shots and will inform me when I miss something that's off. In a traditional shoot, however, I would choreograph my actors BEFORE proceeding to shoot the scene, orchestrating all elements while my eyes are peeled on the monitor. So this experience is a whole new vista.
What inspires you?
I am inspired by the human condition. In these COVID times, nothing jumps out at me more than how we all need one another even if we cannot all physically be with one another due to lockdown restrictions. On the show, Characters are reaching into themselves and finding the strength to help their friends and family even when they are dealing with their own problems. I think this is one of the things that fans of the show relate well with and would probably emulate; the interconnection in-spite of the limitations.
My experience of COVID-19 has been one of watching in complete stupefaction as humanity loses control to an unseen enemy. The deaths are horrific, and I feel sad for everyone who has lost someone to this menace. I also feel a sense of 'awe' as I imagine that in millennia to come, we will all be a part of intriguing history as people research, write books and make movies about this time in which we currently live and how COVID-19 changed everything.
What do you miss most about life before lockdown?
The thing I miss most about my life pre-COVID is my cherished home-alone times. The lockdown means there are more people at home at any given time and even though I have my den where I steal some alone-time, it's not the same thing, but hey – Alone Together, right? Sorry, couldn't resist that, LOL.
The End.