Get to know the people bringing MTV Shuga Naija to a screen near you...
Budding actor Chinaza Ruby Akubueze will be a leading force in the new season of MTV Shuga.
Playing the role of 'Frances', Ruby has told us what makes her tick, her lifelong ambitions, and the things she does to kick back and relax in between takes.
We CANNOT wait to see what the upcoming season of MTV Shuga Naija has to offer, but for now, it's time to discover a little more about the newest members of our Shugafam...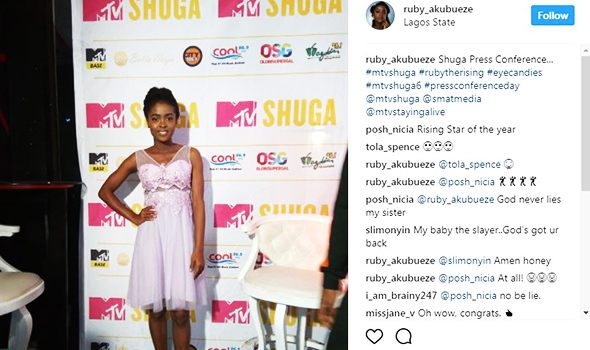 Describe yourself in three words…
Loving, smart, charismatic.
Where's your favourite spot in Naija?
Cold Stone Creamery [ice cream parlour]... I would live there if I had my way.
What do you do to relax?
I play music, sing and eat ice cream... it's the most relaxing thing ever!
What's your favourite song on your playlist right now?
Love is an open door from 'Frozen'...it's been on repeat for so long that I can't even remember!
What made you want to become an actor?
My passion for imitating characters drove me to become an actor.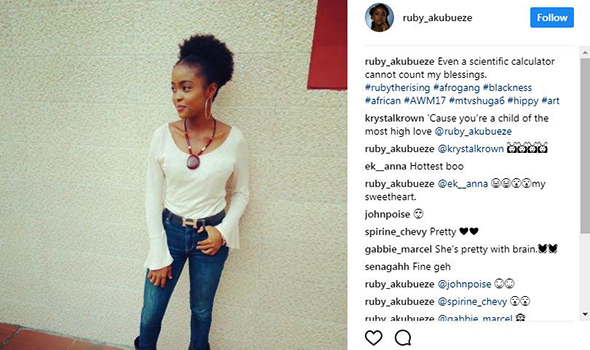 Best piece of advice you ever received?
"Always make God the number one in everything you do" and it's been working wonders for me!
How do you overcome day-to-day challenges in your life?
Whenever I am faced with any challenge at all, what I do is pray and ask God to help me overcome it.
What made you want to get involved in MTV Shuga?
It has always been my dream to be on the big screen and I know that MTV Shuga will be a great platform for me as an actor.
What social issues covered in the show are close to your heart?
Gender Based Violence - It's something that has greatly affected the lives of so many women and I happen to have a close friend who was affected by it.
What are 3 things you wish to accomplish in your life?
I hope to achieve my aim of being one of the world's greatest actors and designers, and to live a life that will impact the lives of people around me positively.
What are you most looking forward to about the new season of MTV Shuga in Nigeria?
I'm looking forward to seeing the reviews from viewers whose lives will hopefully be impacted by the new season.
Follow MTV Shuga on Facebook, Twitter and Instagram for the full scoop on the coming season, and keep an eye out for more interviews with our cast as part of the #MeetTheCrew series...