MTV Shuga Down South: Open Auditions 2018
news
03/08/2018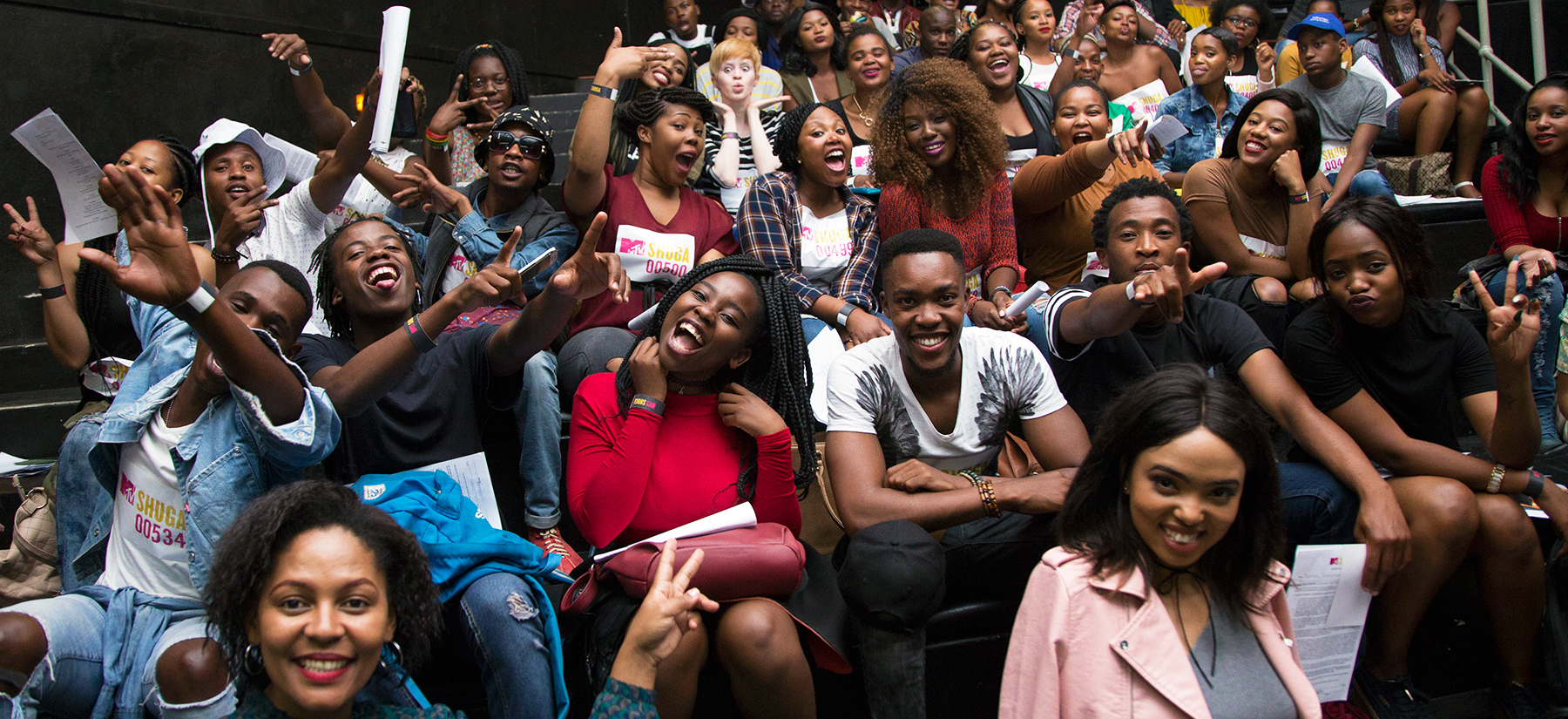 Do you have what it takes to be the next #MTVShugaDS star?
It's official – MTV Shuga is coming back! We broke the news last week that MTV Shuga is heading to Cote d'Ivoire for the very first time in the show's history, but before that adventure begins – Africa's hottest drama is heading back Down South for another season of #MTVShugaDS.
?Breaking News from @Aids_Conference ?: Our new partnerships with @Unitaid & @LSHTM mean we can confirm THREE NEW seasons of MTV Shuga ??

We're returning to ?? for more #MTVShugaDS before flying to Cote d'Ivoire ?? for the 1st time ever! @MTVStayingAlive, we're buzzing! pic.twitter.com/bmOjDGwcoG

— MTV Shuga (@MTVShuga) July 25, 2018
And you know what it means when we announce a new season, right?
Last week also confirmed that we would be holding auditions for the next season of MTV Shuga: Down South in not one, but TWO South African cities this year.
If you are a loyal member of the #Shugafam  you think you have what it takes to make it onto our show, this year's public auditions could prove to be the opportunity you've been waiting for. 8:30
In case you missed it: We answered all of your questions about the MTV Shuga 2018 Auditions here!
Like we do every year, we have made the 2018 #MTVShugaAudition as easy as possible for everyone to enter. Whether you are looking to audition in Johannesburg or Durban, or if you're looking to audition online, we want to make sure you have the platform to give it your best shot. Here are all the details you need to know:
Live Public Auditions Details
This year's live public auditions will be taking place in two different cities. We are excited to be bringing the love to Durban and Johannesburg for two back to back rounds of MTV Shuga Auditions – which means the chances of discovering our next award-winning actor or actress have doubled!
#MTVShugaDS Auditions – Everything you need to know including:

Venues & Dates ?️
Online vs Live Auditions ?️
What to bring ?
How much it costs (hint: it's 100% free!) ?

Read more: https://t.co/JHAMiZgbr7 pic.twitter.com/QEEpc8qbEN

— MTV Shuga (@MTVShuga) July 26, 2018

If you're interested in attending either of these audition rounds, here are the dates to mark on your calendars and the venues you'll need to attend.
Johannesburg
Venue: Zone 6 the Venue, Soweto (click here for map)
Date: 25 August 2018
Times: 8:30 am – 6:30 PM (Cut off time is 3:30 PM)
Durban
Venue: Olive Convention Centre, Durban (click here for map)
Date: 26 August 2018
Times: 8:30 am – 6:30 PM (Cut off time is 3:30 PM)
You can start practicing your audition script below and visit our MTV Shuga Audition Guide for an idea of what you can bring to your live audition.
Online Auditions
Although the public auditions are only taking place in two cities, we are opening our virtual doors to every single South African resident between the ages of 18-25. From the 3rd of August to the 1st of September 2018, you'll be to submit your online audition via Facebook, Twitter or Instagram. Here are the instructions on how to successfully submit your MTV Shuga Audition online:
Record a video of yourself reciting the script below. (Tips: Ensure that your video and sound quality are of the highest standard possible. Practice a few times if you need to and take your time until you have the perfect audition. Feel free to dress like your characters too!)
Once you're happy with your audition, upload your video to Facebook, Instagram or Twitter. Do not submit your audition via Inbox or DM, make sure it is visible on your Timeline.
This part is extremely important: make sure you tag @MTVShuga and use the hashtag #MTVShugaAudition in the caption of your video. Without these two elements, your audition video will not be counted.
Has your video uploaded? Is your caption correct? Watch your video one more time and read through your text to make sure you haven't missed out on anything. Once you've uploaded your video, get all of your friends to comment on your audition clip and wish you luck. This won't affect our judging process, but it always feels great to know your friends have your back!
Make sure your video is uploaded by the 1st of September at 23:59 CAT. Anything uploaded from the 2nd of September will no longer count!
Remember: Only ONE online video per user will be counted, so make sure you only upload your best rendition of the script below. Please
AUDITIONS: @MTVShuga Down South is coming back and looking for new actors

Open auditions will be held for male and female actors between the age of 18 – 25.

Johannesburg at @Zone6Venue in Soweto 25 August
Durban at Olive Convention Centre 26 August

GOOD LUCK!! #MTVShugaDS pic.twitter.com/nSCIeappeE

— Phil Mphela (@PhilMphela) July 26, 2018
Audition Scripts
This time around we have four different scripts that auditionees can submit for their #MTVShugaAudition. Two female character-led scripts, and two male character-led scripts. There is no preference given over which script you choose to audition with. Important note: The same scripts will be used for both the online and live public auditions.
Click Here to View/Download Scripts
What Happens After the Auditions?
The candidates who make it through the online and live public auditions will be contacted by the MTV Shuga production team and advised of their next steps.
Anything else I need to know?
Please take a moment to read through our #MTVShugaAudition terms and conditions. Submitting an audition means you comply with our t's and c's and meet the necessary criteria.
If you have any more questions about the #MTVShugaAudition, you can DM or contact us on Facebook, Twitter or Instagram.
MTV Shuga: Down South will premiere on MTV Base (DStv Channel 322)) and BET (DStv channel 129) and other terrestrial broadcasters and other MTV networks and third party broadcasters around the world from the year 2019. Other elements of the MTV Shuga: Down South campaign will include a radio drama series, peer educator programme, comic book, mobile information service, social media and a range of digital platforms.
Now that you have all the information you need, let us know how excited you are for #MTVShugaDS by using the hashtag on social media! Did you watch the first MTV Shuga: Down South? If you haven't watched it before you can stream the full season here:

---